LED Door lights
New production run coming soon
NEW LEDs - BETTER AND BRIGHTER
Direct plug-and-play replacement
No modification required - No tools needed
LED modules use fraction of the power and generate a fraction of the heat while producing comparable amount of light
Each OEM light bulb uses 5W while the new replacement LED light uses only 0.675W
With both doors open the door lights alone consume 30 watts of power
With replacement LED lights the power consumption will drop to just 4 watts for all six lights combined!!
Red light - rear

Amber light - front and bottom

OEM light bulb - 5W
LED replacement - 0.67W
OEM light bulb - 5W
LED replacement - 0.67W
---
LED modules can be used with three different lens options
OEM lens only
Stock appearance when OFF, "#" effect when ON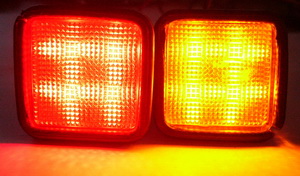 Brightness comparable to OEM light bulbs
---
Laser cut, frosted glass effect replacement lens
Gray, uniform surface when OFF, smooth almost uniform light distribution when ON
Slightly brighter that OEM lens, colors are a little less saturated
---
Laser cut, frosted glass effect lens installed underneath OEM lens
Double lens installation
Stock appearance when OFF, stock but uniform light distribution when ON
Slightly dimmer that OEM lens alone. Vivid colors.
---
Technical details:
Each light uses custom designed circuit board

There are four PLCC-6 LEDs, each containing 3 chips for a total of 12 LED chips

Power supply is regulated by an onboard IC

Safe operating voltage*: 10 - 30V

Full brightness is achieved at 10.5V and remains constant above that level

Power consumption at 12.5V - 0.675 watts

Built in overload protection

Built in over temperature protection

Special clear coating provides protection against moisture and water
* - Voltage lower than 10.5V will not damage the light but the light output will be lower. Absolute maximum supply voltage should never exceed 37V.
How to install:
The installation process is very simple and does not require any special tools. In most cases you will not need any tools at all. Here are the steps needed to replace your door light bulbs with the new LED modules:
Remove the lens - the light is made of rubbery plastic that allows removal of the lens. All you have to do is spread the black sides of the light and pry the lens out. Do not use excessive force and be careful not to crack the lens!

Remove the bulb - The bulb simply pulls out. Grab the bulb with your fingers and pull it out while rocking it from side to side. Do not use pliers to pull the bulb out - it is made of glass and it will break leaving a broken off base inside the socket.

Install the new LED light by simply aligning the connector board with the socket and push the light all the way in. DO NOT USE ANY TOOLS LIKE TWEEZERS OR PLIERS TO INSTALL THE BOARDS. The board has a clear protective coating that might be damaged by tools causing a short circuit and severe damage.

If the light doesn't come on, remove it, turn it 180 degrees and reinstall it. This is an electronic circuit in which polarity does matter. It will only work when installed the correct way around. Reversed polarity will not cause any damage but the light will not work.

Reinstall the lens. If your set came with custom frosted lenses you will need to remove blue protective film before installation. Just peel it off and the lens is ready for installation.

ENJOY YOUR NEW LED DOOR LIGHTS!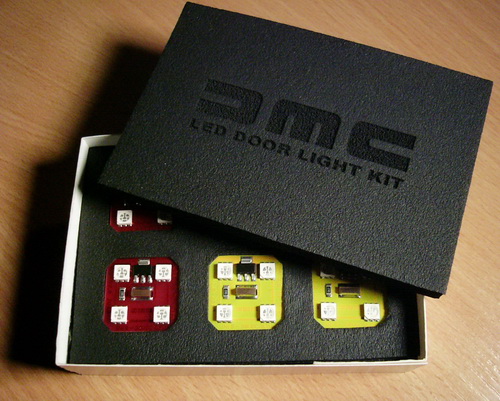 +
Order your set here:
Option

Price

LED door lights kit

Each kit includes:

2 Red LED light modules

4 Yellow LED light modules

Lenses are NOT included - order below

0 sets available

$80

Custom lens kit 1 - replacement lenses

New lens replaces your OEM lens

Each kit includes:

6 OEM size custom frosted glass effect lenses only

OEM lenses are NOT included

0 sets available

$20

Custom lens kit 2 - double lens installation

New lens fits below your OEM lens

Each kit includes:

6 smaller size custom frosted glass effect lenses only

OEM lenses are NOT included

0 sets available

$20

They're all gone... for now
FREE Worldwide priority shipping
---
---